The Experiencie
The Basics
All activities with horses are done on the ground.
No prior horse experience is necessary. Safety precautions are thoroughly reviewed for each  session. In addition, we ensure that participants understand horses, their nature, language and how to stay safe while engaging with them. We honor both the human and the horse and our intention is to create a setting that brings the best out in both beings.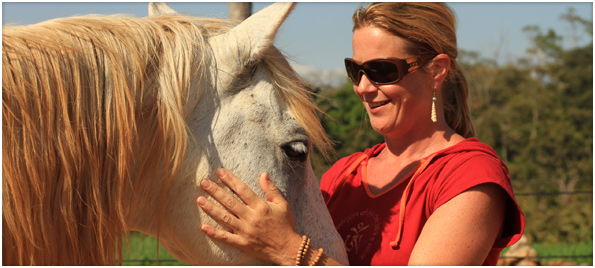 You have the choice to choose a program listed below or we can help you create a customized  program to best suit your needs and desires. Aspects from any of our programs can be put together to offer the best experience. For those who have specific goals to accomplish, or those who want to learn more about themselves or simply to connect with these beautiful beings.
Programs  can vary in length. Come by yourself, with friends or family or a group and enjoy a thoroughly unique experience with the horses.
All the individual, group sessions and workshops include  combination's of meditation, centering activities and gentle body work to prepare you for experiential activities with the horses. There is reflective discussion and dialogue among participants after the experiential work, as well as suggestions for integrating the experience into your daily life.
Horses, Spirit & Play
Our introductory 3 hour experience.
What to expect from this workshop
THE ORIENTATION
You will learn the physical language of the horse, their gestures, nuances and movements and how this articulates into a message to other horses and humans. You will learn how to use  their language to communicate and connect with them.
FIRST CONNECTION
You will enter the arena to meet the herd, taking the opportunity to meet and greet each horse. Then you will choose one or more horses, that you wish to continue the connection with and perhaps have the most to teach you.

SECOND CONNECTION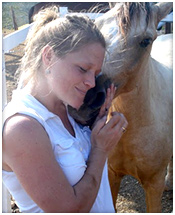 You will tune into the wisdom of your body and hear its messages while standing alongside a horse that you chose.
By brushing, stroking, and breathing together, you will form a heart connection that  will inform, nourish and inspire you.
THIRD CONNECTION
IN THE REFLECTIVE CIRCLE...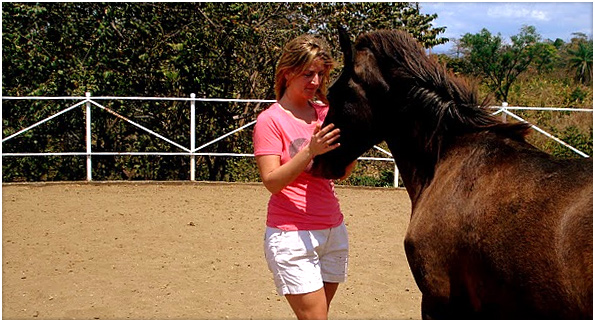 Join your chosen horse in the round pen, where you may 
Set an intention to receive clarity on a personal issue, or
View the horse as a metaphor for how you engage with life, or
Simply enter with an open heart, to whatever comes from your interaction with the horse.
Other activities possible in longer sessions

Unmounted Visualization

Standing next to your chosen horse(s) with your eyes closed, you will be guided through a powerful interactive visualization.

Vision Mandela Drawing or Freestyle Painting

Your visualization will leave you with an inspiring vision for your future. To really highlight your new vision and install it into your heart and mind, we'll use the creative activity of Creating a madela, painting, or finger painting.

By actually creating your vision in a concrete manner, you will powerfully anchor it into your future.
RELATIONSHIPS THROUGH THE WAY OF THE HORSE
LIFE HAPPENS IN RELATIONSHIPS
Relationships are an integral part of our lives…from the relationships with ourselves, our family, friends and co-workers. We all want healthy, positive, successful relationships...in all areas of our life. Though almost all of us at some time in our lives have run into some problem in creating and maintaining the kind of relationships we desire.
Horses are masters at relationships and they love to help us humans
HOW & WHY
Horses are intuitive beings. They have the natural ability to read body language and will respond to our behavioral patterns, particularly if there is an in-congruency between our emotions and behavior.
Horses accurately sense your level of trust, confidence, awareness, and interpersonal skills; offering feedback and opportunities to learn what you need to change, in order to succeed in personal and professional relationships.
Horses challenge us to be authentic in our relationship with ourselves and others, to be meaningful and mindful in our communication and to reach our full potential. For the large majority of people who participate in this approach, the horses will touch them on a much deeper level then they ever expected.
Through experiential exercises with the horses, guided energy and body work, reflection and discussion you can learn from our horses:
• Self Awareness about your relationship strengths and areas of growth.
• Powerful relationship skills to take back into your life.
• How to listen to understand.
• How to use your energy to connect and watch the results unfold before your eyes

Let's Come Together and Imagine a New World into Being
Imagine a world in which everybody tells the truth. Imagine a world in which everybody takes
100% responsibility and nobody ever blames. Imagine close relationships in which you enjoy a constant flow of appreciating and being appreciated.
The Horses will show you how it looks
Team Building with Horses
For Businesses, Corporations, Organizations, Schools
How well do you know your herd?
Try this unique horse-facilitated workshop for your next corporate teambuilding program. Experience a new approach to teambuilding through the use of horses.
If you are serious about building effective teams, then this program is for you.
We are providers of high quality team building program for people who demand exceptional results
Equine Guided Team Building is a unique and powerful team building experience. With it people will :
# understands and appreciate the unique skills of each team member

# actually work together in challenging situations, not role play and pretend

# Know how to engage with your team more effectively

# Leave with a clear vision on how to work together effectively

# Feel part of a cohesive, effective, high performance team

The whole team participates on a level playing field. No one, no matter their level in the organization, seniority, or previous horse experience has an advantage. In fact, more often than not, talent that had not previously surfaced becomes evident as an untapped team resource.

All experiential learning benefits from deeper learning. But no other experiential learning has the appeal that the horses do. The lessons learned have a more lasting value because resistance to learning is broken down through their contact.

And, for those willing to pause for a moment in the company of these majestic animals, many have found moments of intense peace in an otherwise hectic, often demanding, frustrating, and challenging world. In summary, Equine Facilitated Growth, Learning and Education is a short term approach, that affects real and lasting change, allowing the participant to experience the reality of making choices and projecting attitudes. The horses show us a different way of relating with others, our environment and ourselves. Horses teach us awareness, integrity, respect and trust.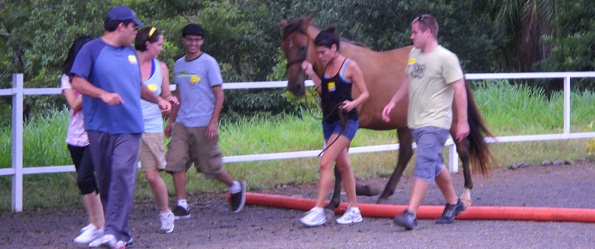 Lasting Results Tailored to Your Team's Needs

The exercises can be adapted to focus on the specific issues your team finds challenging. The exercises will highlight unknown strengths and weaknesses within the team and the resilience of the team to respond to unforeseen obstacles and to challenge unproductive assumptions that constrain success.
The programs are designed with your specific group(s) in mind; for your management team and also for your employees. Your team will be faced with challenges where communication is essential. Through these challenges your work groups' existing communication problems will emerge. Once these are identified, steps can be taken to understand and correct communication problems. With this greater awareness, communication solutions are attainable and more positive relationships can then be created which will be helpful within the everyday work environment.

Because the lessons are adapted to your team, the rewards are immediate and more lasting. They are quickly taken directly to the bottom line as the team gels as a far more effective instrument of change.
So many trainings focus on what we do as a team member, this program is different. Working with the horses you focus on who you are as a member. We work with the really important elements of team playing namely - relationships, beliefs, respect, trust and focus.

Discovering your Heart Connection
Reclaim your ability to feel and think with the heart. In both horses and humans, the heart produces an electromagnetic field that travels far beyond the body containing information that impacts our interactions with others.  Horses use this heart-brain link for greater awareness and connection to everything around them.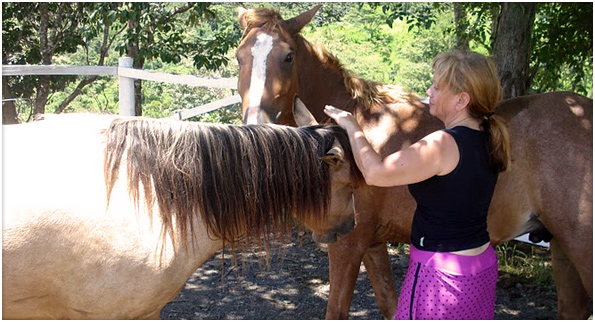 In this workshop we will reconnect with our 'heart brain' Discovering your Heart Connection will create a deeper intuitive knowing, providing the opportunity for richer, deeper connections in your life.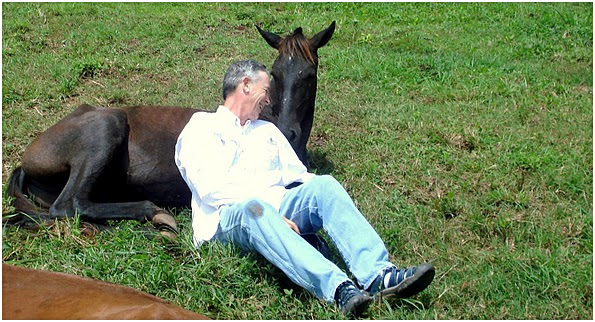 With the horse you will:
Explore what truly has heart and meaning for you
Develop heart-centered intelligence
Acknowledge and embrace your authentic self
Understand the power of expanded awareness
Project emotional intention
Connect with your aliveness and creative spirit
Reconnect with the peace, silence and rhythm of nature
Activities can include:
Mindfulness practices..fully living in the present
Connection with the horse, using all 6 senses
Heart meditations with the horse
Reflective round pen
Energetic heart exchanges
Horse dancing
Horse healing Ceremony
What to bring: 

Clothing and Footwear appropriate for working with horses, a notebook & pen, sunscreen and umbrella or hat, a curiosity to learn and your passion for horses!
Equine Facilitated Psychotherapy
Are you seeking...
Therapy for yourself, your partner, child or your family that goes beyond the surface and down to core issues quickly and effectively?
We Can Help.
EFP is a powerful, experiential and effective therapeutic approach that has an incredible impact on individuals, youth, and families. It addresses a variety of mental health and human development needs.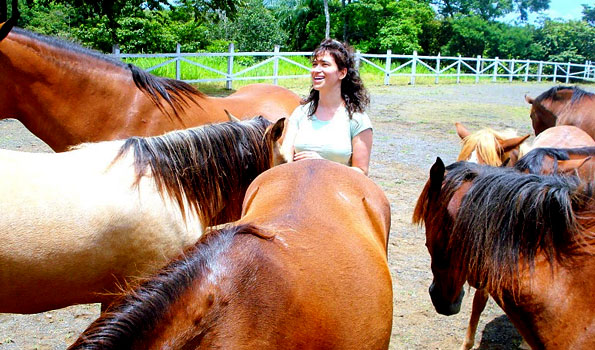 Benefits of Equine Facilitated Psychotherapy
A visceral, tactile understanding, beyond intellectual awareness
An opportunity to identify patterns and re-examine their usefulness
Discover effective new strategies to manage unhealthy patterns and behavior
A non-threatening environment to try out new behaviors and receive instant feedback
Immediate results and "aha's" in just one session
Helpful for:
feeling stressed, depressed, or anxious
relationship problems
family problems
life transitions
eating disorders
abuse issues
anger management

Equine Ethology for Veterinary Students
A special two day workshop for veterinary students.
Through observation, interactions with the horses, reflection, and group discussions, you will learn:

How to take a personal self- inventory, self-scan, ground and center yourself and how to leave distracting thoughts and emotions at the gate.
The horses language, how they communicate their thoughts and emotions with each other and us.
How to develop a mutual trusting relationship with horses.
How to develop, and use your intuition, gut feelings, and understanding of energetic connections, to enhance diagnostic and treatment skills.
Alternative therapies to calm, relax and heal the horse. T- Touch, massage, aromatherapy.
Practice performing a EOG on the horses, using all of the above.